Affordable. Advanced Features.
Contera® by AV Costar™ introduces a brand-new lineup of high-end megapixel (MP) IP cameras at an affordable price point. Contera brings in new advanced technologies such as H.265 compression with our brand new SNAPstream+™ bandwidth reduction technology, Smart IR LEDs with variable illumination, Enhanced WDR™ wide dynamic range up to 120dB, and an onboard storage capacity up to 256GB. New programmable features such as Defog technology can further enhance the quality of raw megapixel surveillance footage while Analytics available in the EX Series can increase situational awareness.
ConteraIP cameras come in several distinct body styles to cover most project solution needs, including our unique installer-friendly housing designs with the ConteraIP LX Remote Setup, ConteraIP Outdoor Dome, and ConteraIP MicroDome LX first introduced in our MegaIP® camera line. ConteraIP cameras come with a choice of 1080p and 5MP resolutions at a full 30fps for all single-sensor models, 8MP or 20MP resolution with our quad-sensor models, up to 16MP resolution for dual-sensor models and 12MP for the ConteraIP Fisheye.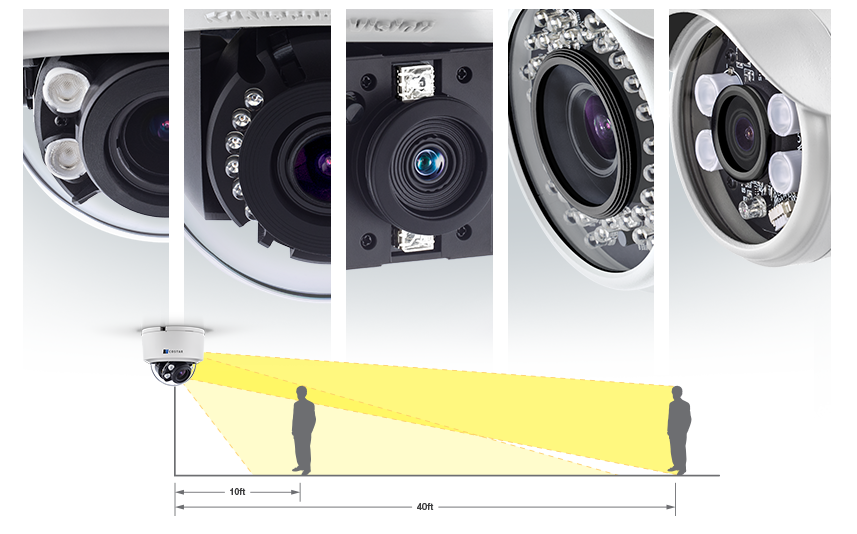 Smart IR, Panoramic IR.
Most ConteraIP camera models feature IR LED illumination, introducing Smart IR and panoramic-view IR options to the AV Costar megapixel camera family. Smart IR illumination with variable illumination ensures that IR light is evenly disbursed up to 66ft (20m) for scenes with low or no ambient light. Since the distance of objects in a scene and the field of view can vary depending on the use case, the flexibility of a Smart IR illuminator provides better control over lighting in low light conditions. In addition, the Contera Panoramic features IR LEDs for each of it's four sensors for 180° illumination and the Contera Fisheye has evenly distributed IR LEDs to illuminate it's 360º field of view.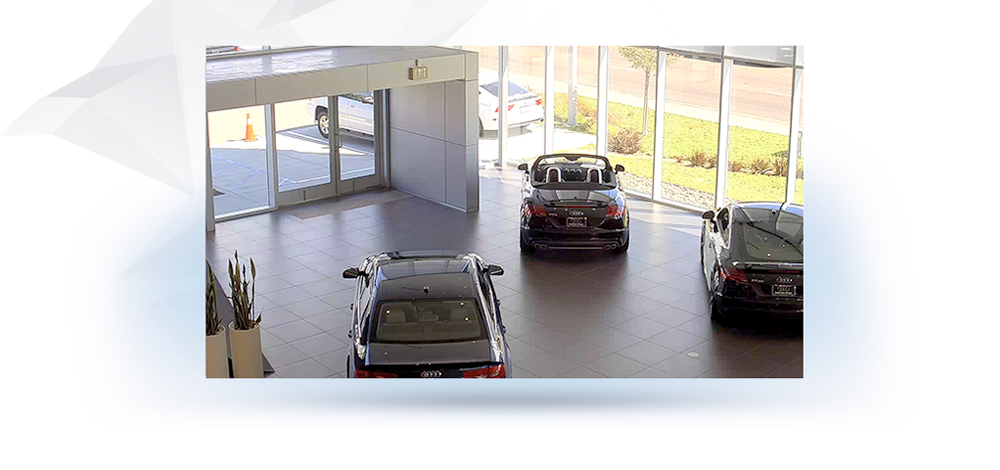 Enhanced WDR™ at 120dB.
For applications with strong backlighting or reflections from wet or shiny flooring Enhanced WDR™ (wide dynamic range) technology is available on most ConteraIP camera models. Many ConteraIP cameras deliver an amazing dynamic range of up to 120db at full resolution and maximum frame rates producing clear images in challenging lighting conditions by maximizing the amount of detail in both bright and dark areas of a scene.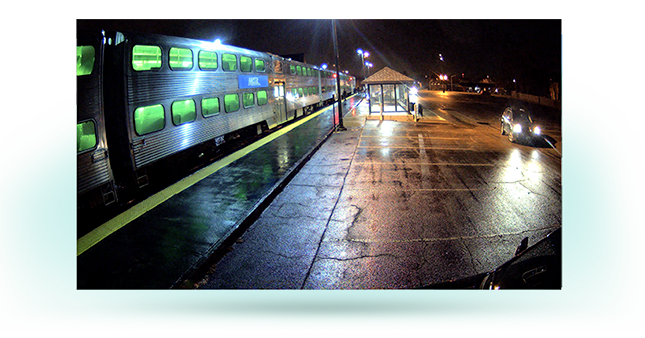 NightView™ for Superior Low-Light Performance.
For challenging low-light applications, ConteraIP cameras offer best-in-class light sensitivity that capture details in very low-light. NightView for ConteraIP cameras allows color imaging in near complete darkness – performing a cut above other low-light methods – and is available in 1080p, 5, 8, and 20MP resolutions with frame rates up to 30fps.